Our mission has spanned for more than 20 years producing millions of subscribers, 1000s of friends and success and many millionaires in their process. Maybe you will be our next big millionaire story.

This long-term mission has built us the financial clout to continue with our mission and leading curve on technological benefits for our friends

Passion drives us to empower the entrepreneur and build long-term relationships with our customers, partners, contractors, and employees

This is what makes us unique as entrepreneurs, parents, and friends.

We never rest, always seeking better solutions, our vision peers beyond the horizon as we pursue leading the trend to excellence for our customers and the world at large

"The future is sooner and stranger than you think." by Reid Hoffman
Everyone is now an entrepreneur whether they realize it or not.
We have entered the Rise of the Entrepreneur and Markethive is the horse
Everything is about people. Our engineers, our marketing and creative people, our clients and customers our family.

Everything we do for our customers we do to change the entire world. Our greatest goal is to reinvent us so fast that we make ourselves yesterday, yesterday

We see challenges as bricks and we offer our clients the mortar that fills the cracks, the ultimate network

We constantly Invent ourselves backwards so we are the customer until we become your solution

We live the concept that simple is most difficult and in the process the 3 points. Quality, Value, and Support.

Our mission is to give you the tools and inspire the courage to follow your heart and intuition, they somehow already know what you truly want to become. Everything else is secondary.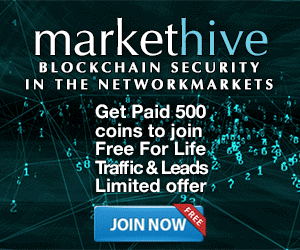 When you're a carpenter making a beautiful chest of drawers, you're not going to use a piece of plywood on the back, even though it faces the wall and nobody will see it. You'll know it's there, so you're going to use a beautiful piece of wood on the back. For you to sleep well at night, the aesthetic, the quality, has to be carried all the way through.

Markethive is an assembly of tools, tradition, innovation, inspiration, relationships in a network that inspires that is greater than the sum of its system a team of people, ideas, and inspiration

Markethive is a vision that evolved from 20+ years of Veretekk. Veretekk was a mission-driven company. Markethive is a vision-driven company.

We have a 20-year mission that has merged with the "Rise of the Entrepreneur" vision, "The entrepreneur, small business, aspiring little gal, and guy, seeking a viable alternative to build a sustainable income and make a difference and ability to help others as well".

When you have a healthy self-employed sustainable middle class, the benefits are amazing:

1. A no consumer debt culture vs a business investment culture

2. Private property ownership (not a mortgage) low overhead more money to invest.

3. Stronger family values (An agrarian type family unit) stronger morals, integrity based foundations.

4. Homeschool (online school options) children bond with parents and each other.

5. Immediate portability (Live anywhere you want, when you want) vote with your feet.

Our goal is to empower every subscriber to reach their dreams and change the world in their own special way with delight being the end game.

Founded by an entrepreneur, envisioned by an entrepreneur, built by entrepreneurs, built for entrepreneurs and filled with entrepreneurs

Welcome to the Hive

Thomas Prendergast
CEO and Founder
Markethive